Maxxum/Dynax 7D: Digital photography using a D-SLR
Experience of a moving photograph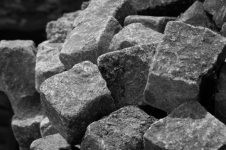 My intention is to use my Konica-Minolta Maxxum/Dynax 7D digital single lens reflex camera (D-SLR). Even if the camera is easy ot handle, the enthusiast photographer in me, for this, needs to find solutions to the specific problems created by the use of digital photography in the real world (and even more specifically, in the context of an African photo safari I ma organizing for myself in March 2005). Let's try to find them.
As I also shoot photos (what was it for, if not to shoot more photos?), you may find a few images and related news that I find interesting. I hope that you'll consider it useful or interesting too.
How about your own photo life?

Digital Photography in the Wilderness: This is the theme geared toward us photographers converted to the digital world of images that is passionately explained in an articles published on Fred Miranda's excellent web site: "Digital Photography in the Wilderness" by Jean-Franšois Ma´on.
Everything is said about the good ideas to keep in mind when you start thinking about leaving the confort of your home in order to take outdoor photography (for example, in the wilderness you have to think about what to take and how to use your memory storage, flash cards, hard disks, laptop computer, etc. while keeping in mind the real life of the outdoor environment rather than the marketing trends of the hardware manufacturers). Simple, straight to the point, lean and clean.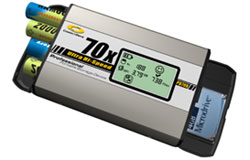 CompactDrive, unexplained minor incident: I really don't know where this comes from, but I recently noticed that Windows 98 was convinced that 45GB (out of a total of 55GB in my CompactDrive PD70x) were already used. This had the unwelcome and surprising effect of limiting the disk capacity to about 10GB.
Without really understading the origin of this, I prefered not to investigate but to immediately format the hard disc drive again (connecting my PD70X to Windows 98 and calling the Microsoft formatting utility). Things are now back to normal.
Panoramic photographies of Hervé Sentucq: A guy who takes great outdoor photos in this nice wide image format. You have to go there and visit if you like panoramas.


Click here to enlarge

Energy savings? A fast Flash card: One of the easy ways for the digital photographer to use electrical energy sparingly is to have fast memory cards. A Transcend CompactFlash 1GB 80x as I just bought, takes about half the time to read or write as my older Transcend CompactFlash 1GB 43x.
Today, my web site is organized around categories:
Click here, and then look at the (richer) menu on the right column.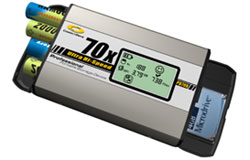 CompactDrive, it's so easy: While I just decided myself for a photo safari in the Southern Kenya (along the Mara river), I can confirm that the CompactDrive PD70X is really simple to use. The nicest touch is certainly the one hand operation for copying a CompactFlash card onto the internal disk drive while checking the progress on the green LED on the side.

Dynax 5D, Dynax 7D and Linux: This is a very workable combination for the digital photographer who wants to handle his images with open source software, even if this may come as a surprise for some. Here is how: "Dynax/Maxxum 5D and Linux".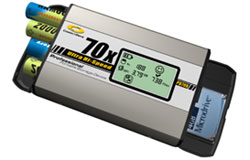 CompactDrive software upgrade: after my study of portable storage devices, I want to inform the users of the CompactDrive PD70X that a new firmware is available on the manufacturer's web site.
A photo trip? A portable storage device: Still looking for the ideal tools needed by the travelling digital photographer, today I started to check these little portable hard discs/drives that allow to quickly empty your Flash memory card that filled up too soon into a much larger capacity small hard disc, the portable storage device. And I think that there is a clear winner despite the apparently very similar feature lists.

Dynax 7D tip #22: Tele-lens, do not move: As soon as the focal length grows, blurred images start to appear. This is specially important for animal outdoor photo where you always feel too far from the subject. Many solutions exist:
The bean bag, a mere bag filled with rice or dried vegetables, allows to set a reflex with a large lens on about anything (small wall, window, rock or dead tree trunk). Don't buy it in Europe. It's always easy to find locally, and you will give the contents to somebody in need before leaving.
Photo tripod. Forget it! Cumbersome, heavy, long to open, it will not adapt itself well to outdoor photo and travels.
Monopod. More or less sophisticated, it will go anywhere you go and it is a good compromise between stability and agility.
Ultra-fast imagery: When you're in a hurry, you've got to photograph fast. On the web site of the observatory of Miam-Globs.

Photo safari? Think Professional support: While the Internet allowed to organize pretty easily a trip to the end of the world, some are more difficult. The life conditions are very different between a road trip from hotel to motel in the center of the United States of America and a hot desert or the exploration of a tropical river fauna. It is more and more common to find people lost with the rented 4x4 SUV in the remotest places (those that do not leave room for errors and trials of the amateur).
For my part, I intend to take advantage of Objectif Nature that has 16 years of experience in setting up photo safaris, nature travels. Also, they rent excellent professional hardware (including lenses) from Nikon and Canon, at a very reasonable price.

Photo safari? Think tele-lens: All the animal photography enthousiasts saw the digital era opening as a gift from God. The small size of sensors offers a focal length conversion factor of about 1,5. Thus, a Dynax 7D ou Maxxum 5D transform a 200mm f/2.8 into a stabilized 300mm f/2.8. Marvelous! And a good economy opportunity even compared to the possible need of buying a short focal length zoom.
Safari photo - Intéressant article : dans le numéro de décembre 2005 de Réflexe Numérique.

A photo trip? Get another Flash card: It is not very expensive, and you don't want to be stuck out of memory right at the moment you see the elephant you were hunting or when the green ray flashes at sun set. My advice is to always have an additional Flash card just in case.

Dynax 7D tip #20: Konica-Minolta Maxxum/Dynax 5D and 7D user manuals: After receiving a number of requests to identify where could be downloaded the user manuals of the Maxxum 5D and 7D, here is the link you need:

Charging batteries during a trip: If you intend to travel with your digital camera, it is important to have the right battery charger. Of course, the charger delivered with your camera will be OK if you are in a hotel (you will always find a 110/230V plug). But if you go further, you must think to extend your possibilities with a charger you can plug into the universal car cigarette lighter.
For the Minolta Maxxum/Dynax 7D (and several other cameras of the same brand like Maxxum 5D and Dimage A1), the battery is an NP-400 and you need a special battery charger. I did not find one at Konica Minolta yet (standard BC-400 only works directly from 100/240V), but some are available on eBay (in France as well as in Canada),on Globale-Batterie and on AboutBatteries
Another solution is to use a small 12V/220V power converter like the one I found at electronic-boulevard.com. But it there is no garantee to be the compatible with different plugs and the power is limited - even if sufficient for battery charging.

Additional battery: You go far from home; Do not forget to carry an additional battery. For the Minolta Dynax 7D as well as the Maxxum/Dynax 5D, the battery is an NP-400.
---
Copyright (c) 1999-2008 - Yves Roumazeilles (all rights reserved)
Latest update: 30-oct-08