Replacing an old laser printer
In search of a new printer
Why change?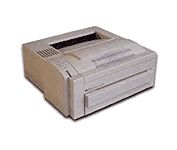 I had an old HP LaserJet 4L laser printer. It seemed a magnificent workhorse but everything has an end (it must have about 10 years at the time I write). It did nearly everything it could: Thousands of letters and screen copies; Hundreds of small print sets; Dozens of documents of 100+ pages; A full litterature thesis.
After all that work, the rubber wheels start to show their age. My LaserJet now finds it hard to print more than 50 pages in a row without a paper jam (t's worse during hot weather). I am in love with the little printer, but this marks the end of a happy common life and I decided to buy a new printer to replace it.
I set a specifications list that included the following important items:
excellent black and white quality
at least 600x600 dpi (but it could be more, eh!)
a paper cartridge holding 200 sheets or more (I can't stand the permanent paper loading task of most ink jets)
capability to be driven from Linux (see "Can Linux replace Windows on the desktop?")
a minimal power consumption when idle (my hardware stays on most of the time)
a price between 150€ and 300€
Update :
Finally, I found some elements for a good comparison at the CNet.com web site that produces the results of its computer product reviews. And... it confirms my choice was a rather correct one.
I started hunting and found immediately that no serious web site is comaring B&W laser printers as of now (for some, the latest article is 3 year-old). Online shops often provide a semi-automated comparison of features, but success of ink jet printers seem to have moved any interest into laser printing right into the underground. It's a pitiful situation because the cost per page of laser printers is at least ten times lower than for ink jets. It is often less expensive to buy an entry-level laser printer to go with the color ink jet, just to avoid paying the high price of ink jet cartridges used in your photo-quality printer to output tables of figures.
Then, I also noticed that it is time to seriously look into color laser printers. Their price is actually falling down. So, I started looking this way.
Color laser printers (comparing low-cost printers)
First (good) surprise, there is actually a small number of really low cost laser printers (sometimes around 200€, and often around 300-350€; You can check on your prefered shopping comparison web site). Even more interesting, I noticed that Konica-Minolta was organizing "sales" of its Magicolor 2300 series through several online vendors (sometimes with a warranty reduced to 3 months).
Here are a few of the color printers I considered.
Information :

Published on the Tom's Hardware web site right when I started looking for a color laser printer: "Color laser printers at bargain price" (or in the French version "Le laser couleur Ó prix cassÚ").
One of the most intersting conclusions of the article: Beware of consumables costs. For some printer brands, you may pay a lower price buying a new printer than buying a set of ink cartridges. Even if the cost-per-page stays much lower than for ink jet, it's worth checking before any buy.
Konica-Minolta Magicolor 2300W: bulky (25kg, 50cm high), noisy (39dB idling) and consuming 250W at sleep (after that, I wouldn't be bothered switching the light off when I leave my flat!). But it seems to have a very good printing quality and it is compatible with Linux if you use the right open source driver.
Epson AcuLaser C1100: 500-sheet loader right of the box, parallel port (good for the compatibility with an old PC re-used as a print server), but no knwn possibility to use it with Linux (it should be possible for Macs, even if not easy).
Konica-Minolta Magicolor 2300DL: As the 2300W, bulky (25kg, 50cm high), noisy (39dB idling) and consuming 250W at sleep. Weirdly, compatibility with Linux is less convincing than for its little 2300W sister. However, the print quality is still very good (Magicolor's strong point). But the time to output the first printed page seems to be very long (it's worse if the print job is big). Most users give the advice to configure the printer in order to wait for printing the first page after the job spooler is full (this advice seems good for the 2300W, too).
Canon LBP-520: much smaller than most of its competitors, nearly instantaneous startup and very good printing quality seem to be the aces of this color printer. But you can't find any knid of support for Linux or Apple Mac. Nearly 14W power consumption when idle. Even if the color ink cartridges provided inside the new printer are of reduced capacity (2000 pages instead of a normal 4000), the black ink cartridge contains the normal ink capacity (5000 pages).
Epson AcuLaser C900N: A little old but still on the market, USB, Ethernet and parallel interfaces, limited memory (16Mo) but no way to operate it from Linux (linuxprinting.org advice against is quite heavily worded).
To summarize, I did not find the perfect fit whithin the pice range I was prepared to accept. Honestly, Konica-Minolta printers were not very far from convincing me, but power consumption and bulk were really too much for me.
Black & White (B&W) laser printer
When I folded bak onto a more traditional option, I got my reflexes back: Buy Hewlett-Packard; Their laser printers seems practically indestructible (my personnal experience is drawn from the good old LaserJet 4L, of course, but also from the stacks of LaserJets in the companies where I worked in the last 15 years). I only saw one HP laser printer with a problem, and they often do much more than the stated lifetime page numbers published by the manufacturer.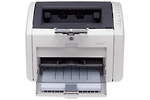 While looking for a printer in the HP long list of printers, starting from the bottom prices, I quickly stopped at the HP LaserJet 1022 series.
Below 200€ (less than 300€ if including a network interface), 1200x1200dpi, 250-sheet loader, drivers for all Windows versions, all Apple Mac OS and a reasonable Linux support (thanks to the proprietary but de-facto-standard page description language known as PCL-5e), 2W of idle power consumption.
I made my decision: The Laserjet king is dead, long live the LaserJet king!
Multe-Pass.com :

Even better, I just discovered that multe-pass.com is referenced in the list of known spammers at SpamAnti.net. I noticed it because I found one of their spam messages in one of my honey pots (email boxes that I never use but that collect spam each and everyday).
I should have known better. I always said I would not buy from a spammer...
Buying it - Never buy from Multe-Pass.com
I chose to buy it from French online shop multe-pass.com (mainly because of price and because I did not mind the longer delivery times - I should have thought twice about this).
Delivery - Multe-Pass.com can't ship
At the moment, I am waiting for the delivery. More information here, a little later, when it will arrive.
The order was placed on 24-aug. I placed a message at the web site to have news about it. On 02-sept, I learn that the delivery to their own warehouse is expected on 12-sept - a chunk more than the expected/announced 3-9 working days.
To add insult to injury, the web site now publishes a nice "3% off all the catalog".
I just tried to send another message. Now, my web browser is supposedly not handling cookies (weirdly it recognizes my registration for the 3% discount) and I cannot leave a message anymore.
I start to have dreams involving dripping blood when I think about them.
Today, the 13th of september, they aswer my request with a request for 7 days more, not to deliver, but to "make things straight (régulariser la situation)". I wonder what can be expected now.
After much wait, the delivery is made on the 24th of September (exactly one month after order).
Delivery and installation
After this month of waiting, the printer is here. Unpacking goes without any problem apart from a small glitch: the lack of any USB cable in the box. It is a common case for printers and similar peripherals for the PC, but it is an annoying one. Happily, I still have a USB cable on the shelf full of cables I keep here.
Connection to one of the free USB ports of champagne (my PC connected to the video-projector, that is also a file and print server on my network).
The drivers CD-ROM from Hewlett Packard says HP LaserJet 1020 series which suggests that all the printers of this kind share the same drivers.
Upon powering, the printer started outputing a test page (I hope this is not a systematic waste of paper). Then, Windows 98 recognizes the printer, offers to install the driver from the CD-ROM. It's done in less than 20 seconds.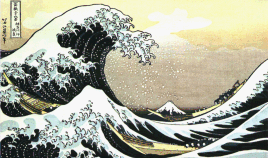 The name of the printer will be Hokusai in praise of the Japanese engraver and painter whose ukiyo-e (Japanese prints) marked a near revolution in Japanese art partially under the influence of the European impressionnists painters. As it is replacing Durer, my old HP Laserjet 4L, this appeared as perfectly sound.
After installing the printer in shared mode, I can imediately send a print other the network. Nice! And the printer does not produce any noise (remember this was a central issue above when discussing a possible color laser printer ; Even if this could not really be an issue for B&W laser printers).
---
Copyright (c) 1999-2008 - Yves Roumazeilles (all rights reserved)
Latest update: 30-oct-08