Color laser printers
Comparing low-cost printers
First (good) surprise, there is actually a small number of really low cost laser printers (sometimes around 200€, and often around 300-350€; You can check on your prefered shopping comparison web site). Even more interesting, I noticed that Konica-Minolta was organizing "sales" of its Magicolor 2300 series through several online vendors (sometimes with a warranty reduced to 3 months).
Information:

Published on the Tom's Hardware web site right when I started looking for a color laser printer: "Color laser printers at bargain price" (or in the French version "Le laser couleur Ó prix cassÚ").
One of the most intersting conclusions of the article: Beware of consumables costs. For some printer brands, you may pay a lower price buying a new printer than buying a set of ink cartridges. Even if the cost-per-page stays much lower than for ink jet, it's worth checking before any buy.
Here are a few of the color printers I considered.
Konica-Minolta Magicolor 2300W: bulky (25kg, 50cm high), noisy (39dB idling) and consuming 250W at sleep (after that, I wouldn't be bothered switching the light off when I leave my flat!). But it seems to have a very good printing quality and it is compatible with Linux if you use the right open source driver.
Epson AcuLaser C1100: 500-sheet loader right of the box, parallel port (good for the compatibility with an old PC re-used as a print server), but no knwn possibility to use it with Linux (it should be possible for Macs, even if not easy).
Konica-Minolta Magicolor 2300DL: As the 2300W, bulky (25kg, 50cm high), noisy (39dB idling) and consuming 250W at sleep. Weirdly, compatibility with Linux is less convincing than for its little 2300W sister. However, the print quality is still very good (Magicolor's strong point). But the time to output the first printed page seems to be very long (it's worse if the print job is big). Most users give the advice to configure the printer in order to wait for printing the first page after the job spooler is full (this advice seems good for the 2300W, too).
Counterfeit Deterrent Marking and Banknote Detection System: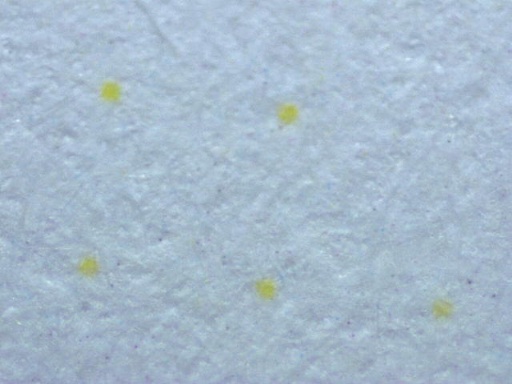 This is the nice (Editor's note: Are you sure?) name of a technology implemented by a large number of printer manufacturers in their laser color printers. It means printing (usually on the document border) a group of small fot color in light yellow (nearly invisible) that encode the brand name and the serial number of the printer (to help authorities in the fight against counterfeit doucments and banknotes, because of the excellent quality of the color prints from these machines). You may find more information on the web sites of the manufacturer (at least an indication at the bottom of the technical specification datasheet on the printer, but not always), but there is a full analysis done by the Electronic Frontier Foundation (EFF).
Canon LBP-520: much smaller than most of its competitors, nearly instantaneous startup and very good printing quality seem to be the aces of this color printer. But you can't find any knid of support for Linux or Apple Mac. Nearly 14W power consumption when idle. Even if the color ink cartridges provided inside the new printer are of reduced capacity (2000 pages instead of a normal 4000), the black ink cartridge contains the normal ink capacity (5000 pages).
Epson AcuLaser C900N: A little old but still on the market, USB, Ethernet and parallel interfaces, limited memory (16Mo) but no way to operate it from Linux (linuxprinting.org advice against is quite heavily worded).
To summarize, I did not find the perfect fit whithin the price range I was prepared to accept. Honestly, Konica-Minolta printers were not very far from convincing me, but power consumption and bulk were really too much for me.
---
Copyright (c) 1999-2008 - Yves Roumazeilles (all rights reserved)
Latest update: 30-oct-08