It's bit quite a bit of time that I repeat I use RawDrop as my prefered tool to convert RAW images produced by my Dynax 7D into TIF files. But some wondered what configuration I use. There are not a zillion options in RawDrop, but to obtain a clean result, it's easier not to fool around blindly.
Here is my advice and my own experience.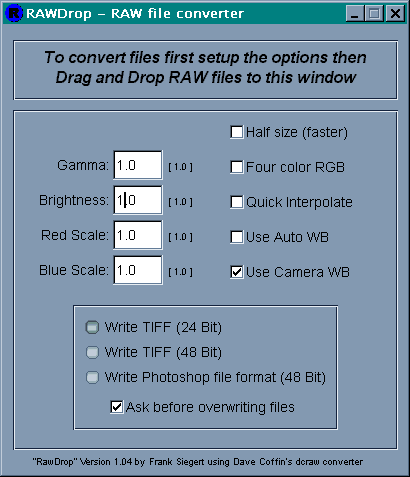 First advice: do not use the "use auto WB" (use automatic white balance) option of RawDrop. In the general case, it pushes the image into a very bland colour balance removing all useful information (and the interest of starting from a file whose content preserves most of the data collected by the camera sensor).
For the rest, I keep the default options. I get an image softer than the Konica-Minolta JPEG file (which is more saturated and less natural).