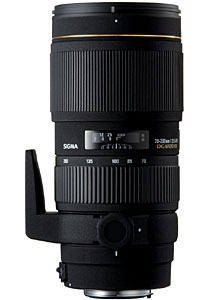 I have always been interested by the tele zoom lenses and a 70-200mm or 80-200mm seems to me to be the ideal companion. When it opens at f/2.8, it's really a good solution. If it's a macro zoom, it becomes even better.
Up to now, I was rather looking toward the excellent Konica-Minolta 70-200mm f/2.8 SSM or its little borther Konica-Minolta 80-200mm f/2.8. Two very nice lenses (white series herited from Minolta). It is quite possible that Sony will produce the 70-200mm in its new Alpha brand (see availability and price on the SonyStyle web site). But a new buying option shine now that Sigma announced a new fast tele zoom lens that could well be interesting too.
This large aperture zoom lens seems to have everything you need and a good price (much better than the anticipated 2300USD for the Sony 70-200mm f/2.8 SSM). Its hypersonic motor (HSM) will allow a precise correction of focus and its 100cm minimum focus associated to a 1:3.5 ratio opens the doors to macro. If you also buy a 2x EX DG APO Tele Converter, you get a quite serious 140-400mm F5.6 AF telephoto zoom lens.
Lens quality could not be evaluated right now.
Available for the following lens mounts: Sigma, Canon, Nikon, KONICA MINOLTA (donc Sony), Pentax (donc Samsung).