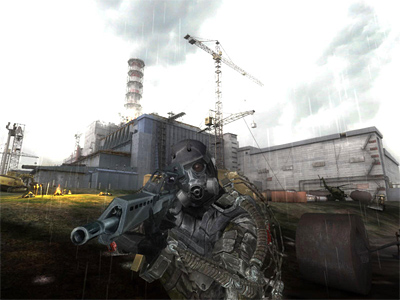 You wanted to know what this PC game, S.T.A.L.K.E.R. Shadow of Chernobyl, is worth? After a few hours of gaming I tell you all about it.
Minimum requirements: The informations given by THQ are mostly right. With an AMD Athlon XP 2600+, 1Go of RAM and an ATI 9800pro graphcis card, it is perfectly palayable in 800×600 and "Low" image quality. Some rare image stops and a reasonable image quality even if it is still pixelated and without any antialiasing, of course. As soon as I will have a much better setup, I'll tell you more.
Very good FPS playability. Moves are quite natural and fights are asking for your attention and intelligence; This is not always a game of shoot-them-first-and-think-later.
The game is well internationalized right out of the box even if some of the Russian characters have a thick Russian accent that may be a problem for non-native speakers.
I observed a small issue with the quick save (I did not find the option in the manula, but F6 is working): it is impossible to reload the quick-save if your name is contianing a white space. This would be solved by using a name without a space.
Information: Voodoo Extreme publishes a patch (v1.00001) for STALKER that should improve a number of the little issues found up to now.
Be cautious: This patch looses all previous saved games.
Security: This patch is not present on the official servers of THQ. Its origin is still a little uncertain.