Two bits of news today that are quite significant of what happens with most of today's high-end cameras.

First, Sony just announced a firmware upgrade for the just-launched Alpha 700 professional photo camera. Some reviewers (like Chasseur d'Images) had noticed that the excellent sensor was not giving its best with the tested cameras (low-contrast foliage was easily blurred by the noise reduction algorithm). Not surprisingly, Sony presents an upgrade to v1 firmware "improving image sharpness and noise performance as well as tweaking flash performance with non-ADI lenses."
Second, Canon UK stopped shipping of EOS-1D Mark III and initiated a recall of unsold cameras pending an official announcement by Canon related to camera repairs/replacements of the autofocus system.
All this points to excellent cameras that arrived a little too early on the market. The pressure to be right in time for the big year's end sales seems to be forcing these apparently serious manufacturers into technologico-marketing limbo. Will we have to apply the automotive market adage of "never buy a car within less than 6 months of its launch"?
The Sony upgrade is only for to early production cameras with v1 firmware (press the Menu and Display buttons simultaneously to check your firmware version).
---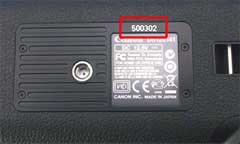 Last minute update: Canon issued an official statement indicating that the issue comes from an AF mirror adjustement problem and that repairs will start in November 2007. If the serial number on the bottom of the camera is between 501001 and 546561, the camera might require an adjustment of its AF mirror mechanism.