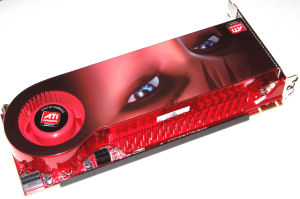 I waited a little while before reacting and writing, but these recent last weeks we have witnessed an interesting move in the little world of graphics cards. While ATI (now AMD) has recently been relegated to the troublingly systematic position of follower or challenger in the competition for the pockets of PC graphics cards buyers, they finally reacted through two noticeable actions:
On the one hand, in the lower-end of the range, AMD/ATI launched a new nice price solution under $100: The new HD 3400 and HD 3600 are there to grab the awards for the lowest prices and simultaneous 3D graphics (DirectX 10.1, but don't expect them to be enough for a crusher like Crysis) and HD video capacity (1920x1080p Full-HD resolution). The HD3400-based boards could even go under $65!
On the other hand, at the star-end of the range which was recently left to nVidia, here is a solution obviously attractive even if not elegant: HD 3870 x2. When you're short on performance, you can always double it by grouping 2 GPU on 1 card and crash prices down to kick the hell out of your competitors. It's not 100% perfect (some games will not be optimized for two graphics cores) but this is a (realtively) easy technical solution to setup. ATI did it and robbed the limie light from nVidia (at least for now).
Ok! This is not enough to forget the raw performance of the nVidia boards. But it is interesting to see how AMD/ATI fights with all available tricks to be able to come back a little later with some still-undisclosed new graphics cards.