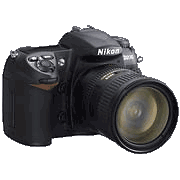 The Nikon D200 seems to be the real high-end prosumer digital camera from Nikon. Different reviews for this fabulous Nikon camera:
Definitely a nice body for an enthusiast. Maybe a bit on the heavy side (830g instead of the already heavy 760g of my own Konica-Minolta Dynax 7D), it has the advantage of a really good LCD display (6.35mm or 2.5″ diagonal as on the Konica-Minolta Dynax 7D – which was really innovative in its time but has been joined by the Canon EOS 5D, EOS 1D MArk II n, and the more recent EOS 30D). I would recommend the excellent 11-point autofocus and the great color-matrix auto light exposure.
The only source of hesitation would certainly be the price. 2000€ for a mere camera body! This is still a lot despite the enormous memory buffer (18 images in mode RAW or 29 JPEG images).