At the PMA 2007 fair, today, Sigma just presented a lens outclassing just about everything: An APO 200-500 mm f/2.8. You read it right, just look at the photo below to understand that this is a super-tele-zoom built by aliens for aliens.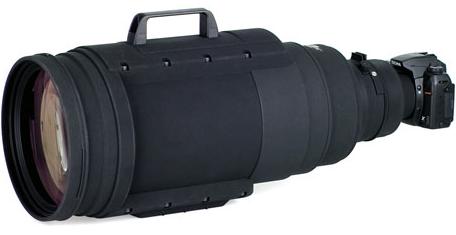 No idea what the price is going to be, but you'd better be an Arab prince to be able to talk to Sigma about it.
In the list of accessories you will want to add to it, look for a really-pro tripod, and a personal luggage handler; but no need to worry about a 2x converter, Sigma will bundle it. 400-1000mm focal length, or 600-1500mm on a small sensor D-SLR, your image stabilization had better be good!
Source: DPreview.