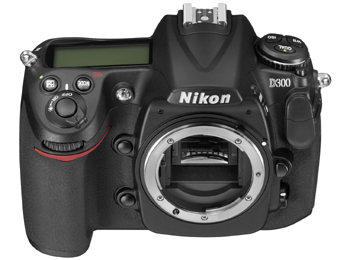 Here it comes! Nikon follows in Canon's footsteps and announced its new digital single lens reflex camera, the Nikon D300 improving on the foundation of the D200 whose commercial life was quite nice. The job is a tough one: making even better sales than a successful camera and countering the attempts of Canon, Sony, Pentax, Panasonic that are planned for the coming months.
Some technical characteristics:
CMOS APS-C sensor of 12.3 million pixels (x1,5 crop factor) at 200-3200 ISO (ext. 100-6400 ISO)
14-bit digital conversion
Sensor dust clean-up integrated into the camera body
Sequences of 6 images per second
Shooting speed of 1/8000s (1/250s and 1/320s flash synch)
Autofocus with 51 zones, widely configurable
3″ LCD monitor (assuredly the new standard size for high-end reflex cameras) with 922,000 pixels (we are nearing a full mega-pixel!)
LiveView mode to visualize a photo scene on the rear LCD, as on point-and-shoot compact digital cameras
Body hardened against water and dust like the D200 (internal magnesium-allow structure)
Compatibility with EL-EN3e batteries, HDNI video to connect to HD video peripherals, USB2, CompactFlash cards and WiFi WT-4 optional base
Price: 1749€
It looks like an impressive camera. But the price is quite surprising. If we compare with the other products on this market, I think that Nikon will have to lower the price quickly in order to keep it running (even if most of the targeted customers probably already have Nikon lenses that will limit their choice when buying a new camera body). And, the Nikon D300 will not be available before November 2007, which leaves time for Nikon to think it over.
Sources: Site Nikon, Nikon D300.
Additional date: Nikon also announces a Nikon D3 in the higher part of the product line with a full-frame (24×36) sensor in 12 million pixels, that is opening 2008 (next year is expected to really be the year of the full frame).