Photographers are avid of more pixels per frame. Most of them are also fond of panoramic photos (they look so cool). Why not join forces and make a contraption able to shoot panoramas with billions of pixels (multi-giga-pixel panoramas)?
This is what Charmed Labs and Carnegie Mellon University did when they developed the GigaPan robotic camera mount (Press release). Rather than stitching together hundreds of images painstakingly taken one-by-one, the tripod mount is able to pan through a landscape and capture the individual images needed by a computer program to build these wondrous images.
YouTube link
In the end, if you want to see more (and browse a lot of panoramic images), you should stop by one of the following web sites:
Not all the images are perfect, but some of them are gorgeous.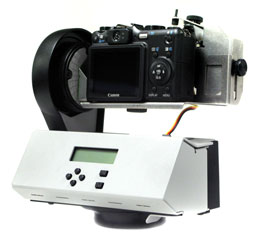 GigaPan motorised mount on a tripod. It hold nearly any kind of digital SLR camera and pans slowly to capture a full panoramic image.
The GigaPan is not currently available yet but could be no more than a few hundreds of dolalrs, and work with open source software (so, free software).
Source: Futura-Sciences.