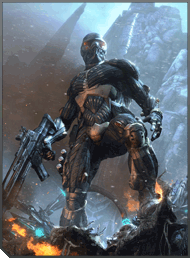 Crysis, the First Person Shooter PC game of the year is already upon us, but the marketing frenzy is not finished and news are pouring in relation with this FPS game. Let's have a look at what ended up on this desktop and that I'd like to share.
Crysis will be part of a trilogy. After FarCry, Crytek decided to start a three-part set of games with Crysis. This is branding at its best following in the footsteps of others like Civilization, Grand Theft Auto. This explains the sharp end of the game: It's just the beginning.
Some problems appeared in multiplayer mode. Connecting to the game servers was abnormally difficult (not only an issue of players rushing to the latest MP game). A hot patch is expected. In the mean time, kludges are available at inCrysis fan site.
The drivers for graphics cards from AMD-ATI and nVidia are regularly updated to improve performance with the hit software. Latest as of today is a fix from AMD for the Radeon HD 2000 and 3000, but nVidia is certainly trying to get another small improvement, too.
More and more companies started bundling Crysis with their best and most recent graphics cards (sometimes adding just the CD-ROM, sometimes adding a Crysis-themed sticker to the card). Let's just list:

GeForce 8800 from eVGA
ASUS GeForce 8800GT series

Even some mobile computers will be able to run Crysis (already a famous resource hog): The nVidia GeForce 8880M GTX mobile chipset is being readied just for that purpose. A demonstrative video comparing 8600 and 8800 graphics chipsets.