Ok! Sony did not disclose this in so many words yet, but it's become quite clear. Let's review the facts and the rumours:
Fact: Last year, Sony showed a mockup of a future Digital SLR camera tagged as "flagship". Rumour: The enormous size of the pentaprism of the viewfinder shown lets people wonder whether Sony will make it a camera with a big Full Frame (after Canon and then Nikon).
Rumour: The high-end "flagship" camera should be named Sony Alpha 900 to keep the naming conventions of the pro-line of late Minolta brand.
Fact: Sony announces today that they have developped a Full-Frame sensor of 24.81MP resolution with a set of very good features for superlative image quality. The chip will be shipping in industrial quantities before the end of 2008.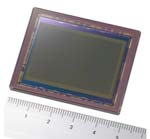 The logical conclusion: Sony will use this new sensor in its flagship camera. It will be named Alpha 900. It will have 24,9 mega-pixel resolution, continuous shooting at 6 or 6.3 frames per second, 12 bit pixel management, optional capture of a window leading to lower resolution upon request (maybe with even faster continuous shooting). The Sony Alpha 900 will be available in 2008 (using the full production of the sensor).
The only thing that seems less certain seems to be the name, because this one relies only on hearsay.
Sources for the sensor specification: PhotographyBlog, DPreview.