The Cormorant is clearly a bird easy to find anywhere you can find some water. In Pantanal, the Neotropic Cormorant lives along rivers and is easily seen spreading its wings in the sun while not diving for fishes.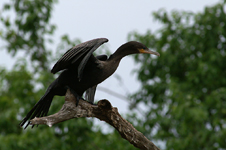 Click on the thumbnail image to enlarge it
Neotropic Cormorant (Phalacrocorax brasilianus, Cormoran vigua). Brazil, 2007.