Master Chong, in Malaysia, recently published photos of the future Sony Alpha 900, high-end D-SLR not yet officially announced by Sony, but that should be the pro pilar of the Japanese brand with a Full-Frame (24x36mm) sensor of 20 to 24 millions of pixels.


There are only images to judge, but it leaves some possibilities for (preliminary) analysis.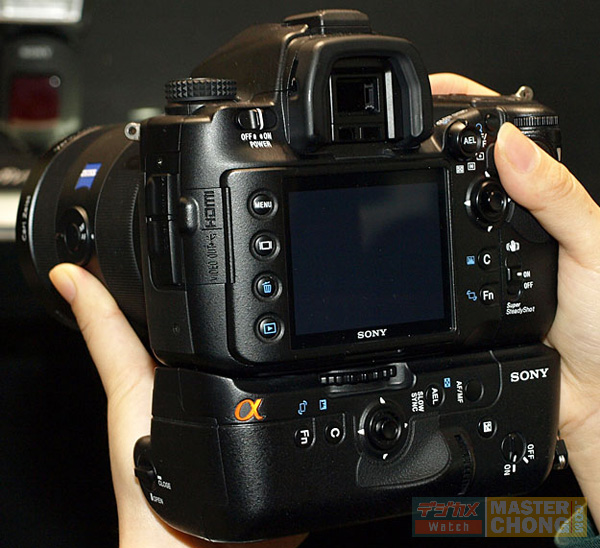 The back face of the camera shows an interface impressively similar to the usual one found previously on the Konica-Minolta Maxxum/Dynax 7D and the Sony Alpha 700. Position and meaning of the buttons seems to be nearly identical. I would just point at the will to mark the presence of the HDMI interface by engraving on the connector caps (on the left-hand side as on the A-700). But this is no news.
Notice the complementary/optional grip that really includes a full set of commands to ease moving to vertical position of the camera. Those adepts of optional battery grips will definitely appreciate.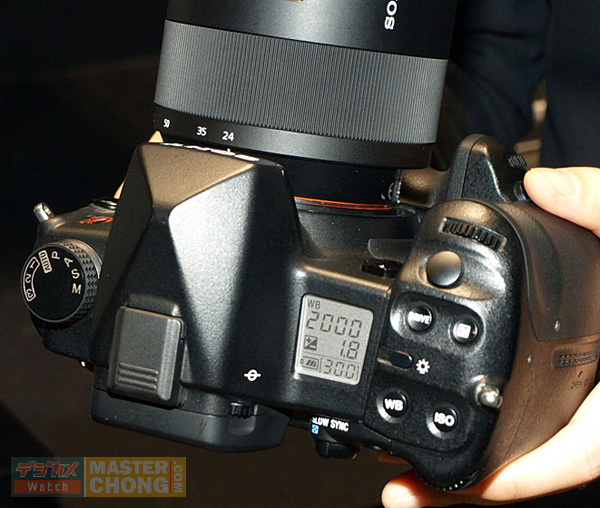 On the top face, the same comments will be made, but nobody could miss the additional LCD screen. Usually removed from the cheap cameras for economic reasons, the price of the Alpha 900 will visibly authorize it. I know many people who were deeply regretting its removal from cheaper cameras.
Data displayed here include all the basics:
Shutter speed and diaphragm aperture
Possible exposure correction
White balance
Battery status
But, really, I don't grock the new button with a logo looking like the little flower.
Last, look at the rotating button on the left-hand side. It has all the usual basic exposure modes but none of the result modes found on other Sony Alpha cameras (most pros wouldn't care loosing them). However, the 3 distinct positions for 3 user modes are back. I have to admit that the MR position of the Sony Alpha 700 was less pleasant than Konica-Minolta Dynax 7D 1/2/3.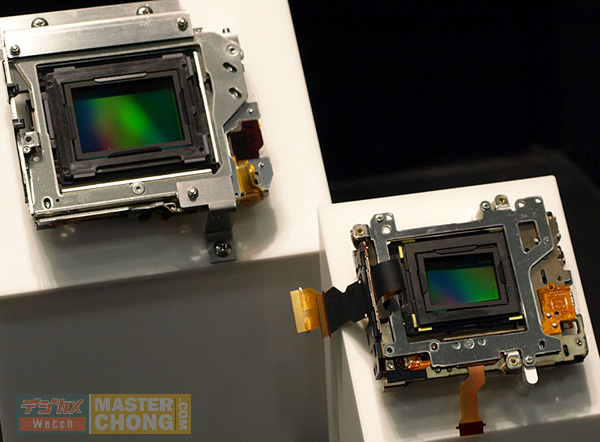 Is it still needed to remind you that? This flagship must host the new Sony CMOS sensor of 24 million pixels. This will probably translate in 20 or 22 million usable pixels, but it will be a big amount. Less clear is the resulting image quality. Other Full Frame cameras (from Canon and Nikon) do not reach that (merely 1/2 of it). They should have the advantage of larger individual pixel sizes, but technology is progressing quickly and Nikon may be tempted to use this new sensor in a future 20MP Nikon D3x.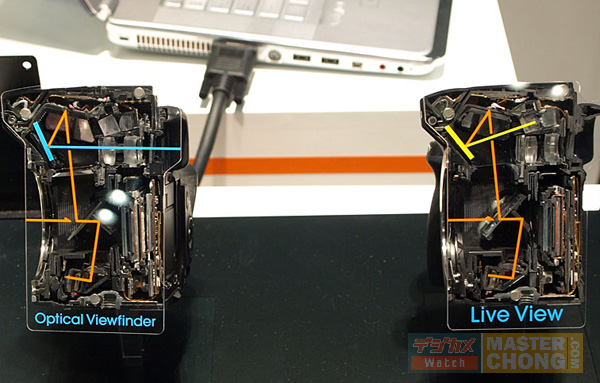 High-end or not, it is clear that the Sony Alpha 900 will have a LiveView function to shoot without taking the camera to your eye. I am still unconvinced, but this is the the fashion of 2008. As the Alpha 900 will probably arrive in August or September, it will have LiveView.
A point to notice on this Carl Zeiss lens: There is the usual AF-lock button, but with an additional ring to stop on AF or MF. This is probably becoming a trend in high-end lenses for Sony-Carl Zeiss.


All this is good. But it is clear that the most important part is not visible. Even clear views will not cut to it: sensor quality, processing power and algorithmic prowess will tell if this will be a revolution for the high end D-SLR market or it will merely be a copycat for Canon and Nikon (I think that Sony has enough to kick butts, but I can't prove it yet… just that they said that they would go up to 25.600 ISO).
All in all, I invite you to also visit Master Chong web site.