We would be troubled thinking about the future of this migration. Wildebeests and zebras are depending simultanesouly on free access to enormous tracts of lands (more and more limited by Human activities) and ecological stability (that could be seriously unbalanced by the global warming).
The Great Migration: This is the name of this major and annual animal move between Kenya and Tanzania. Between 1.5 and 2 million gnus (wildebeests), several hundred thousands of zebras and some more antelopes follow a wide triangular geographical pattern to find the lands with the best possible grass depending on the rains and the temperatures.
Since they have to cross rivers, this quickly becomes a difficult task. All the more because all kinds of predators know the locations and are waiting for them. The gnus strategy is simple: Overwhelm the predators. If a lion takes 1 gnu out of 10,000, it is better than 1 out of 10. So, they regroup themselves in enormous herds before rushing through the waters.
The predators (lions, hyenas, crocodiles) are waiting. And they are taking a life toll on the herds.
Since this is quite graphic (Mother Nature is not often very nice with the weakest animals), the following images may be reached separately. But young and sensitive minds should avoid looking at the following depiction of a Nile crocodile attack on a swimming Burchell's zebra (in the Mara river).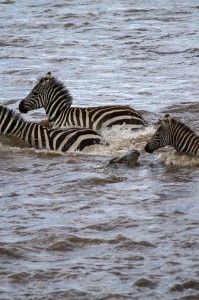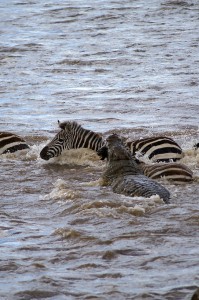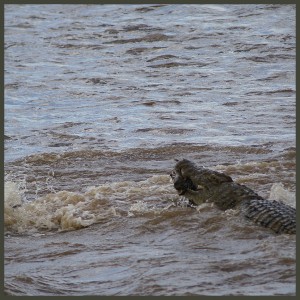 Blue Wildebeest (Connochaetes taurinus, Gnou bleu, ñu azul o ñu taurino). Kenya, Mara river, September 2008.