How many PC gamers started their career with video games as raw (according to today's criteria) as Doom or even Quake. We may find their quality too low for our eyes, but they already demonstrated their main strength: the gamer found interesting adversaries and environments where you could not know what would happen behind the corner of a corridor (that generation of video games did not yet open the doors to a wide environment like in FarCry or Crysis).
Already, before the year 2000, PC games were expensive. But here comes the Internet and bands of Internet users now expect to find free things all around. Authors of such games (like Id Software) decided to follow this trend and offer some of these older games as ways to attract more customers for other games. These ones start by being free, and stay as being very pleasant to play.
Doom was put in the public domain a few years ago. Consequence: Here is somebody deciding to re-write it in Flash and you will be able to play Doom (more precisely, Doom 1). You will need Flash 10 and I'm told that PowerPC Macs are not compatible, but you're going to tote a shotgun and the BFG mini-gun at outer-space monsters and without paying (free).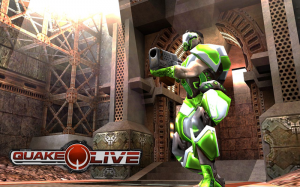 Limitations of QuackLive:
Windows XP
Windows Vista
Firefox 2.0/3.0
Internet Explorer 7/8
Doom is not enough? You want more, more quality, more guns, more speed? Why not Quake? Id Software just opened access to QuakeLive.com. For free, you'll get to play Quake, right now, freely, for no money. It will be fun…
More precisely, here is Quake III Arena with free access to all. It will go fast. This is violent gaming. It will only stop when you're dead.

YouTube link
This is not enough? Again? So, let me offer some video games with calmer settings, but still free. Even better, Linux games.
live.linuX-gamers.net succeeded at preparing Live-DVDs (DVD that are completely autonomous, you can boot on them without installing Linux).