The Greater Kudu (Tragelaphus strepsiceros) is a superb antelope easily found in the forests and bushes of Southern Africa (South Africa, Botswana, Zimbabwe) and of Eastern Africa (Tanzania, Kenya). Its reputation was acquired in the ranks of the European hunters who launched the fad of (hunting) safaris thanks to the impressive horns which decorate the forehead of the males and which -still today- are the core of the most impressive trophies that a hunter can collect.
As a matter of fact, in South Africa, there exists a large number of private reserves that breed beautiful antelopes to let them free in front of gun-totting rich barons armed with large gauge riffles. To say the least, the has the small advantage of organizing the protection of some habitats and to finance a local economy oriented toward the management of environment, a little like the European breeding farms of pheasants that maintain the natural space and permit some fast-reflex shooters to stuff with lead a few terrified animals just of out of the chicken coop. At least, the trophies prepared by a local taxidermist are paid a dire price (I've seen costs of thousands of dollars, if not more).
While pondering these thoughts, here are some pictures I collected in Botswana with my own bazooka (my photo camera), and at the only sound of its continuous shooting. The trophy has been collected at the only price of a Flash memory card.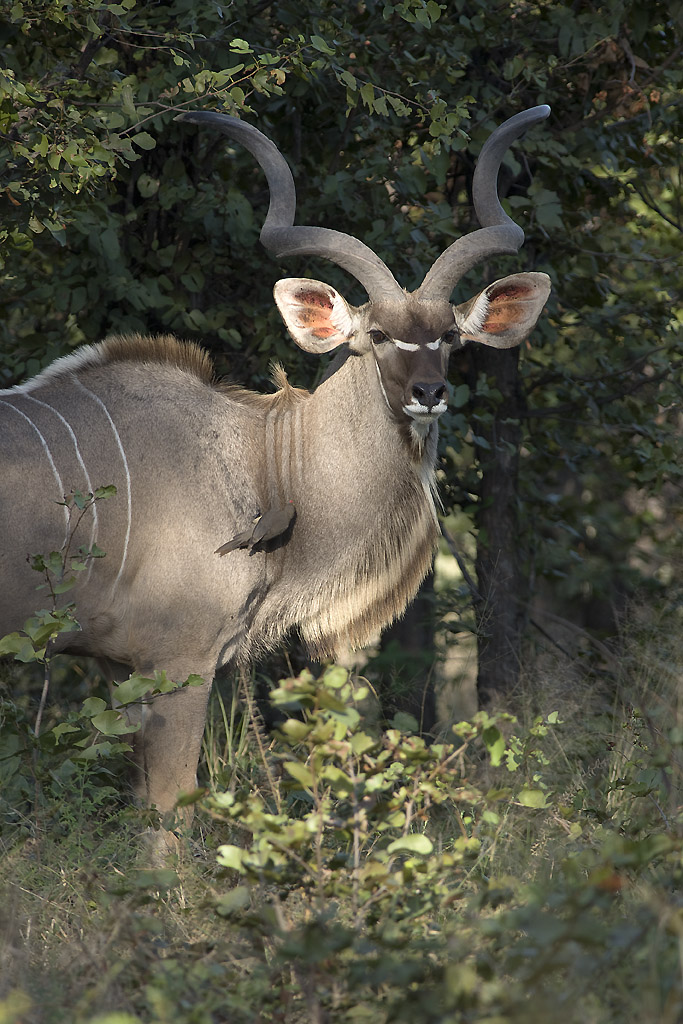 Greater Kudu (Tragelaphus strepsiceros), Grand koudou.
Botswana, Moremi National Park, May 2010.