The WWF has a wide Black Rhino Range Expansion Project which is trying to ensure a better future for the Black Rhinoceros species. They are under a severe threat because their horn is considered as the source of a powerful medicinal drug in several cultures. The black rhino is protected and poaching is slowly reducing (but it is difficult to know for sure whether the last remaining wild animals will be able to maintain long enough to restore a stable population).
In some countries (like in Botswana), the protection institutions have included radio chips in the horns of wild animals to -at least- be able to catch quickly any poacher even when they left the National Parks and are in big cities (and this has been the reason for quite some bad surprises to some poachers: Botswana laws lead to 15 years in prison in this case).
The WWF is trying something different: Taking some animals from a location where there are a little more wild animals and moving them to an habitat where they have disappeared. In this case, moving the from South Africa Eastern Cape to Limpopo Province, about 930 miles (1,500 kilometers) away.
This gave photographers a unique occasion to shoot unusual pictures: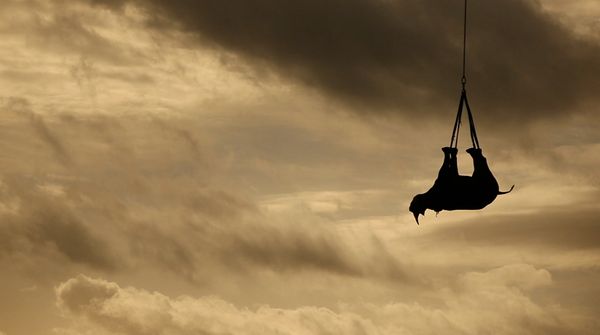 Photographs courtesy Green Renaissance/WWF.