For some time already (a few years, actually), I use and I recommend CrashPlan as an online backup solution. My photos are sent to a US backup server to protect them against some seriously bad event in my home (a fire? the theft of my computer hardware?) which would leave me without any backup locally available. This is only part of my insurance again the computer risks, but it's a critical link out of a long chain of protective actions.
My recent experience left me with a few dauting questions that will need to receive quick answer if I want to keep my faith in CrahsPlan. Since I have near me three different computers on three different accounts, backing up on a daily basis, I witnessed two annoying incidents nearly simultaneously.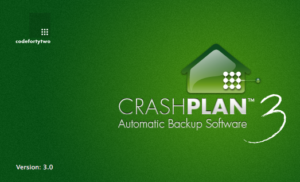 First, my main desktop computer (which holds all my pictures/photos) no longer can backup anything because the CrashPlan engine keeps crashing (no pun intended) after only a few minutes. Seevral days, no idea why despite multiple reboots. Is the fact that I recently reached 1TB of data (a lot of photos, admittedly) a kind of explanation? Did I hit a limitation? a bug of CrashPlan?
Next, on Marion's laptop computer, we experienced a dreadful moment (violent crash leading to full Windows re-install without any warning). So, the natural reaction was to say "Merde !" and go quietly to the CrashPlan restore option, to get it all back. But, where restoring a few files had always been pretty easy (you should always test the restore function of your backup solution), an intensive restore is proving very similar to a nightmare. I believe that we will have every back soon, but it's slow not only because of connection or server speed but because the server keeps disconnecting us and we had to restore bit by bit, very small group of file, by very small directory. Anything big or long (videos?) is nearly impossible to get before the next disconnect every 30 minutes or so). Ugly and painful as hell.
I tried many things. I think that we will be able to restore everything (except Marion's photo archive – that is already on a local back, thanks to our multi-tier backup strategy). But it is uselessly painful and slow (several hours of tiresome manual work during a full week for less than 10GB; This is too much for a subscription-based solution).
I'll keep you posted about the way my opinion evolves here.