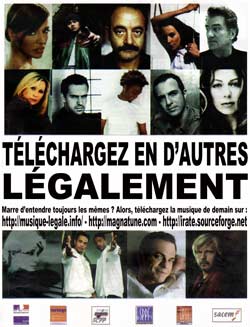 Music friends, noise friends, sound friends, ear sportsmen and sportswomen, here you will not need Kazaa, eDonkey, eMule, BitTorrent, or soulseek; In short, no P2P or Warez wbe site, your old wbe browser is enough. You will only find good old links and download and listen to music coded in Ogg or MP3 format, freely offered to the public by their authors or with their approval… Full songs, not small 20 second excerpts. Being for free is not illegal per se, and the usual talk that anything that is not online MP3 merchants is pirates and hackers is not satisfying ( even more when we do not find what we want in the supermarket).
All in all, it's worth looking around here (and elsewhere). Browsing around, you will find artists as good as the ones whose names are more known to the masses, direct from the producer.
On MP3legal you will find lnik collections to artists websites of top quality. They are welcoming your very legal download. Feel the thrill of being legal and forget the Top 50 hits for an hour or two.
You can also listen to a lot of music from the Web Radios.
And some free legal movies! All from DivxLegal.
It's all good (and mostly in French, but you will not mind).
Mirrors:
http://musique-legale.info/