Gran Turismo: An enthusiast's PC geared towards PC gaming
Easy Penny: A very reasonable PC able to sustain a few years without letting its owner down
To protect the Summer PC (for the gamer [Gran Turismo] as much as the student [Easy Penny]), we need a computer case. For this, we must remember and understand the various roles of this important part of the PC machine. If we except the really odd high-end dream machines (big CPUs, double graphics cards, etc.) nearly all the computer cases available on the market are apt to their function: holding all components together and provide a convenient cooling. All that is left are more personal criterias like:
Elegance, form and external appearance
Extension capacity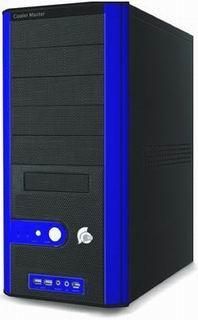 I won't try to offer my advice about the first item. But I tend to have a very pragmatic approach to the second. the gaming PC must allow some significant extension in the future (even more if it is relegated to secondary role when its performance starts to show its age, later). I will opt for a case with enough space for added drives (both internally and externally in 3″1/2 and 5″1/4 sizes). This being taken into account and having read the positive comments from ArsTechnica, I chose the Cooler Master, Centurion 5 tower case (sometimes known as the Centurion T05). It exists in a modern two-color black and blue presentation (but the most moderate buyers can have black or silver grey); It is not too expensive (54€ without power supply); It is up to the task of cooling a normal PC.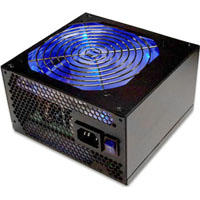 Regarding the power supply, the two PCs have very different needs. Gran Turismo, must support a much larger power consumption than what was considered standard in recent years. With mid-range or high-end graphics cards (AMD Radeon HD 2900 XT or nVidia GeForce 8800 GTX), the needs climb directly to 300W per board! Even if we do not not load fully the machine right now, we want to preserve extension capacity and we need to take into account one 250W graphics card, one 75W CPU and some peripherals. It leads us to 350W already. If we want to support future extensibility (in 2 years a new card or a second graphics card in SLI or CrossFire mode), a 450W power supply will be easily overwhelmed. The GameXStream series from OCZ have the enormous advantage of having a PFC (Power Factor Correction) that leads to extreemely high efficiency. This is important becasue between an active architecture power supply with more than 95% efficiency and a more traditional power supply with a more comme 75% efficiency (less, sometimes) there is such a difference that an old 500W PS can draw more energy from the outlet than a modern PFC-based 600W one (this is observed in the Legit-Reviews test, where two power supplies from the same brand, OCZ PowerStream 600W and GameXStream 700W, compete: The second has the smallest electricity bill despite its higher output power).
Not willing to go too far, I opted for a GameXStream 600W from OCZ in Gran Turismo (the gamer's PC).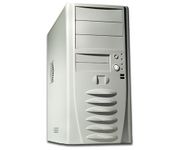 For the cheapest PC, Easy Penny, the issue is much simpler. The extension capacity is much smaller and the power needs are completely different. This machine will evolve mostly by components replacement and it won't go as far in the future as Gran Turismo. The best solution is to find an integrated computer case. The Antec SLK1650 ATX is a small tower case meeting those requirements: 350W power and a murmur for colling down components. Even better, it is well distributed in France and in Europe; Its price just went under 65€ (less than 85€ with shipping and handling).
We will add more to the configuration in future posts, but we currently have:
Gran Turismo: 54€ for a Cooler Master Centurion 5 case and 103€ for a OCZ GameXStream 600W power supply, including S&H(current total: 808€)
Easy Penny: 85€ for the Antec SLK1650 ATX case, including S&H (current total: 317€)
All prices are the best we could find in France at writing time.