After months of intense speculation and many rumours, Canon is finally ready to disclose all the details about its long-expected Canon EOS 40D (the sequel to the successful 20D/30D Digital Single Lens Reflex – SLR).
But it's Amazon which has shown all the details by starting a page to take pre-orders: Canon EOS 40D on Amazon. It will be a great camera to cover all needs of the most enthusiastic consumers.
Note: The delivery will only happen after 20th of Spetember 2007.
Sensor
10.1MP CMOS sensor (1.6 factor)
ISO 100-1600 + 3200h
Integrated cleaning system (similar to the 400D/Xti)
Autofocus
Using a 9 zone detection (cross-shaped)
Metering
35 zones, spot, perosnalized and many modes (incl. Picture Styles)
Brains
Improved DIGIC 2 circuitry for 14-bit conversion (for deeper color details)
Speed
30 seconds to 1/8000s (with 1/250s flash synch)
6.5 frames / second, continuous burst of up to 75 JPEG images/17 Raw images
Display
3″ LCD (230k-pixels) with wide viewing angle (140°) and LiveView (operation with image displayed on rear LCD display like for compact point-and-shoot cameras)
Mechanics
Magnesium allow body and heavy duty construction, with relatively light weight (700g)
Compatibility
with all EF/EF-S lenses and EX SpeedLite flashes
CompactFlash memory cards in FAT-32 (more than 2GB)
WiFi 802.11b or 802.11g transmission with WFT-E3A
Ethernet 100Base-TX
Same batteries as Canon EOS 30D
Price
1299€ (body only)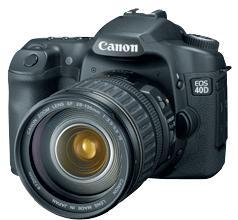 Most of the admirers of Canon will say that it was worth waiting. The others will notice that -once again- Canon did not create a revolution in this technical segment, but ensures that the pace of evolution is very steady: This is a nearly pro camera with its impressive connectivity, and its consumer-like price.
Nikon and their D200 (soon a D300?), Pentax and their K10D (much cheaper and possibly more interesting) or Sony (and their future high-end camera) should take notice and prepare to fight for the customers that the EOS 40D may quickly attract.