A photograph of no less than 10 by 30 meters. Made in a plane hangar used as dark chamber and with a swimming pool used to develop the record image.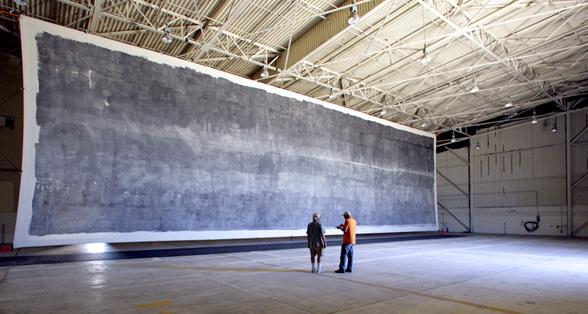 This is a group of photographers collectively known as The Legacy Project that made the mad project possible. Nothing was utterly impossible. Everything was astoundingly difficult:
Build the image paper by preparing the immense cloth piece with dozens of liters of sensitive gelatine emulsion,
Build a dark chamber out of fighter plane hangar with enormous quantities of paint, tape and foam gap filler,
Find the right exposure parameters with test strips as large as a door (result: 35 minutes of exposure).
In the end, the biggest photo in the world is a black and white photo (colour did not crush B&W yet, so digital photography still has a long way to go…)