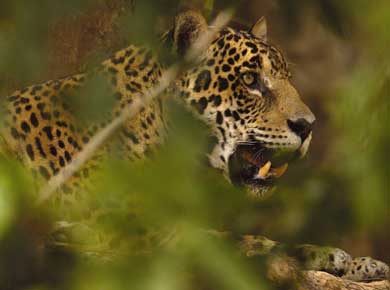 I recently noticed (in the ads appearing in my web site; some are quite good) the web site of the Jaguar Research Center. I went in October 2007 to Brazil, in Pantanal, at the heart of the Jaguar Research Center. So, I wanted to give a small feedback about this experience.
This is certainly the location where it is easier to find jaguars, these large felines from South America. If you want to see these very discreet animals, you'd better contact the Jaguar Research Center or one of the travel agents that can send you there (like Objectif Nature, my preferred French travel agent for photo-nature trips).
I have to admit that the jaguar being very shy and despite the high concentration of these big cats in Pantanal, it is somewhat difficult to find them: In October 2007, our photo group did not see it once in three days (even if the trackers and a boat of the supporting organisation saw it nearly every day).
All in all, it's not so desperate even for a photographer like me who was really willing to catch a few fur spots on the digital sensor of my camera. Along with the flagship feline of the South American continent, this zone is a marvellous water paradise, with the Cuiaba, wide Brazilian river, and many calm locations to observe birds and other animals.
So, I heartily recommend the Jaguar Research Center and I will probably return to JRC -with the hope of finally meeting some free jaguars. And their web site is very nice.