Here is a good example of a photographic opportunity caught at the right time. I am going to the first qualification runs of the 24h of Le Mans (endurance car race in the West of France). Of course, I did not forget to bring some photo hardware with me, even if I was told that the wire meshes are everywhere on auto race tracks.
And, while the weather seemed crappy for most of the day, we have an early evening with a superb light. I grab my brand new second-hand Minolta APO G 400mm tele-lens in order to move back and shoot over the metal obstacles (sometimes, under the up-turned corner of a metal net). Here is the result caught by my Sony Alpha 700, the best images I could catch in the stands: A place where there is always something happening -at least before the race itself.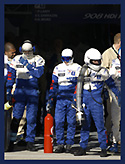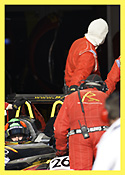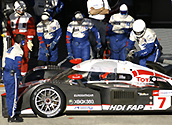 Some of these images can be acquired as posters or as laminated prints on RedBubble.
24 heures du Mans, 2008.