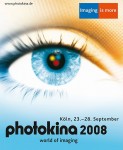 What can be forecasted of the most important (in my eyes 🙂 ) announces expected before the Photokina fair in Koln.
18 September
Nikon lenses: AF-S 50mm/1.4 G – AF-S 85mm/1.4 G – AF-S 70-200mm/2,8 VRII.Nikon new SLR : D800 or D900 (24.6MP Full Frame dSLR camera, with Sony-designed sensor),

or Nikon new pro SLR: D3x or D4 (not sure, this one should only be ready at the end of 2008 or early 2009).

23 September
Photoshop CS4 & Flash CS4
Only during Photokina
Olympus first camera with Micro Four Thirds sensor
Probably never
Canon EF 100-400 f/4-5.6L IS II (le remplaçant du télé-zoom à succés de la gamme Canon)
Beware: We said announces, not releases.
Already done:
Canon EOS 5D Mark II, 21.6 Megapixel Full Frame SLR
New ZE lens family from Carl Zeiss (for Canon EF):
Planar 50mm f/1.4 (580€),
Planar 85mm f/1.4 (1000€),
Distagon 21mm f/2.8 (1400€).
Panasonic DMC-G1 new SLR camera, with Micro Four Thirds sensor
Sony Alpha 900 (Full Frame 24.6-MP SLR) and assorted pro lenses
(Sony 70-400 f4-5.6 G SSM, Carl Zeiss 16-35mm f2.8)
Photoshop CS4 (previewed in Photoshop World show in Las Vegas)
Google Picasa v3 (with face recognition)
Bibble 5 Pro
Canon EOS 50D
Beware: This will be updated as often as needed. This may lead to repeated publications in the RSS feeds and some publication date changes.