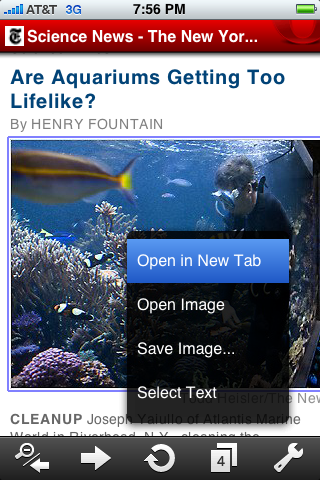 Opera just announced that, while they are not the larger player in the browser field, they cornered a nice piece of turf: 100 million users of Opera (about 50 millions on the Desktop, and a 50 million chunk on the mobile phone).
This impressive position in the mobile phone market is probably going to get a serious boost with the other announcement from Opera: Apple just approved the Opera free browser on iTunes for application on the iPhone. Up to now, the iPhone user had no other choice than Safari (from Apple), but it seems that the competition will now be open with Opera mini which is generally considered as the best mobile browser (at least on the Windows-based phones).
I started to test it as early as this morning on my own iPhone 3G-S and I can tell you: it feels great.
Installation and configuration in a whizzzz (near instantaneous (including the synchronization of bookmarks and Speed Dial with my Opera on PC Win7)
Overall feeling: Very fast browser, a little jumpy. Sometimes, it even feels more nervous than most iPhone applications, but the operating mode is still 100% consistent with the rest of the iPhone apps, so it feels right)
Screen surface well used and very good rendition of all the web sites I could rush to.
Highly recommended up to now.