Sometimes, you just think aloud about a technical possibility and one of the family members will jump and request an immediate application. What could you say? Your geek reputation is at stake!
I spoke about small computers that can easily become a network server (Raspberry Pi) and Android boxes which ease publication of videos onto our TV set(s). And, here comes a comment about Marion's old Vaio laptop having not enough of a battery (please, understand: "What could you do to avoid hauling the ugly laptop to the TV room?").
So, I started looking for a TV decoder box and a video solution.
I quickly came to the easy conclusion that I would have to use an Android TV box relying on Android TV 8.1 (or better), with Kodi as a video player (I had tested it successfully on a Windows 10 PC a few years ago).
TV box
First, I must select a box. The cheapest ones start aroudn $25. So, there is no budget reason to doge the request. But, if you want to keep a little margin for future expansion, it's worth looking at 3GB of RAM memory, and if you think about 4K video, the processor must be helped with a small graphic GPU.
All these boxes come pre-configured with Android TV. Even if version 7.1 is enough, you can easily find boxes with version 8.1 (or even higher). But, please, forget about earlier versions. they will be outdated in terms of performance and features. Everything will be short, including compatibility with modern applications.
Suppliers are plentiful. But avoid those who do not even bother printing their name on the box: They are in the business of selling "dumb boxes" and will not support you in case of the slightest technical difficulty. If they don't even dare naming the box, think about any other business presence.
You can also avoid boxes marked as using chips from Rockchip (strictly no Kodi support – see below) or Allwinner (known for not even developping its own software code…). Source: AndroidPCreview.
Finally, you want a box shipped with a recent version of Kodi (THE reference software for media management) and a "launcher" (a simple user-friendly graphic interface to launch Kodi and/or other applications from the remote without needing a keyboard to key commands in (Remember: this is a family-level application not a geek arena!))
According to my analysis, Android boxes under $50 are usually not feature-rich (or on sale for some bad reason). But between $50 and $95, you'll easily find good-enough boxes (sometimes even with a small wireless keyboard along with the remote, even if this is not very useful after the first install).
Personally, I chose a cute little plastic hexagon from Evanpo: the T75Z plus, for 63€ at Amazon.fr (you may find it with a small wireless keyboard too).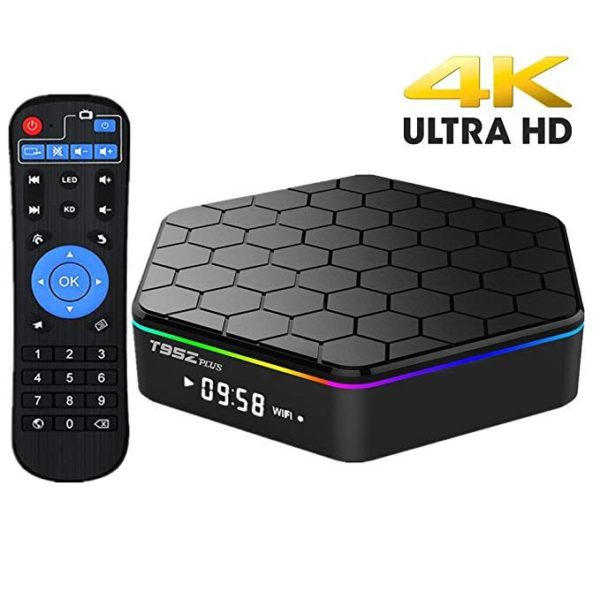 Android 7.1
4K support
Processor: Amlogic s912 octo-core ARM Go
Graphics processor: Mali-t820mp3
3GB RAM & 32GB storage
5GHz WiFi
pre-installed Kodi
1000 Mb/s Ethernet
Kodi button on the remote control, to directly launch Kodi.
It's ready right out of the box.
Kodi and the Synology NAS server
I wanted specifically to use the box to show videos stored on my good old Synology DS413j network server which is hosting all family sensitive or shareable data.
At first, I tried to share files using the Windows sharing (aka Samba/SMB), but I could only get error messages from the Android TV box. So, I moved to another easy solution: Install le NFS file sharing on the NAS and ask the box to grab files from the server using this protocol (Kodi knows both of them; Just click the next option).
I got inspiration (and a very detailed tutorial) from TechJunkie. But the posts from TrendBlog or Esau Silva are quite good too.
No doubt about it: A NAS server is a perfect solution to provide media to the whole family. If you use Kodi (or even VLC) on the box, you won't even need a NAS with transcoding capacity (it would just be more expensive, not more useful).