Building the best possible PC for a set budget, taking into account the current market prices has always been a difficult task. We are starting today a series of posts to define the needed PC components to build an optimised PC (not only good components, but a solution as homogeneous as possible for a given application). We invite you to follow up while we build here two machines:
Gran Turismo: An enthusiast's PC geared toward PC gaming
Easy Penny: A very reasonable PC able to sustain a few years without letting its owner down
In this beginning of Summer, it may seem like a preparation for Fall rush for computers (not only for students starting a new college or university year).
To start with, we will check how to choose the CPU (in a still very competitive commercial environment: AMD vs Intel, single or dual core, fast or cheap?) Those who dream about quad cores should wake up: To start with, prices are preoperly out of bounds for Core 2 Quad from Intel (not less than 500€ for a Core 2 Quad Q6600), leaving it out of our scope. Then, AMD is still pushing its quad-core solution for August and we don't know what availability they will have then.
Nevertheless, it has become clear that dual-core solutions have entered the mainstream. The Core 2 Duo line from Intel is nicely spread all over the place but the diversity of models is making things a bit more complicated than necessary. AMD has less options and has left the field of higher-end performance. However, for normal applications like ours (let's stay in the 150-200€ range for our best machine and less than 100€ for our penny-less student), the competition is quite hard. All the comparison articles I could find indicate that AMD and Intel align their offers on the same price for similar performance. Obviously, there are minor differences if you test one specific program, but don't expect much: Two 150€ CPUs have the same performance (open markets are good for this).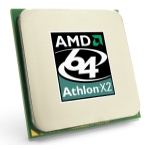 For our enthusiast PC gamer, we decided to set our aim at the AMD Athlon 64 X2 5600+ (leaving aside the direct competitor of Core 2 Duo E6400). Accoridng to Tom's Hardware, the difference is small, but I was attracted to AMD by the lower power consumption and the integration of the memory controller that levels the playground for motherboard leading to a competiton on features only (see next post).
For the cheapest PC, the recent arrival of double-core processors under the 100€ limit such as the AMD Athlon 64 X2 4200+ is a godsend (the single-core CPUs are now officially at the end of their life). Up to now, we only had the ageing Pentium D in this price range. Curiously, now, the Intel Core 2 Duo E4300 is still a little over that 100€ limit but this could change quickly. Our choice: AMD Athlon 64 X2 4200+ using the AM2 socket (let's avoid the old 939 socket at the same price but with less of a future for upgrades in the AMD offer).
We will add more to the configuration in future posts, but we currently have:
Gran Turismo: 168€ for an AMD Athlon 64 X2 5600+
Easy Penny: 98€ for an AM2-socket AMD Athlon 64 X2 4200+
All prices are the best we could find in France at writing time.