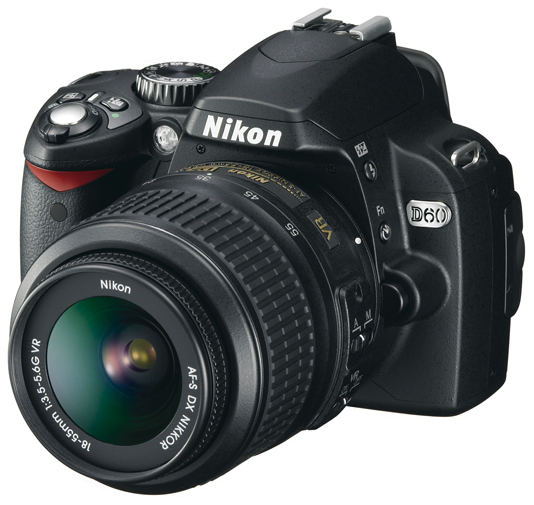 Nikon needed some freshening up of its entry-level digital SLR. so, with the opening of Las Vegas PMA, we discover the newest Nikon D60.
10.2 MP sensor, with integrated dust reduction: Relatively small compared to the current 12MP cheap D-SLRs of the competition. But that's not much of a difference in lines or columns of pixels.
100-1600 ISO. Nothing impressive, let's see the image quality.
3-zone autofocus: Limited, but adequate if Nikon kept the quality and sensitivity of most of its products.
Continuous shooting at 3fps: Quite adequate for entry level.
2.5″ LCD screen: why not 3″ like all of the recent cameras?
Plenty of little interface tricks (several presentation modes, auto-detect of camera orientation, eye-detect to switch off the LCD when using the viewfinder, in-camera editing features without a PC).
SD/SDHC flash memory cards.
Suggested retail price for the D60 Kit with AF-S DX Nikkor 18-55mm f/3.5-5.6G VR: 699€. Shooting right where the market needs it.
If you look at these characteristics, the camera does not look impressive. But it's just a confirmation of the efforts Nikon is doing (after the Nikon D50) to grab the entry level market with light and cheap cameras that are able to attract a public who would not accept to pay 1000 euros for a camera. This is chasing the last bridge cameras.
In the Nikon D60, every technical specification entry is tuned for optimal price and the result is impressive at 699 euros. When we can see the actual result in terms of image, we'll be able to say where it goes, but Canon may have a hard time fighting both Sony and Nikon in the low-cost segment of the market.