Yet another black and white German movie. F.W. Murnau created here a marvellous adaptation of the "Dracula" novel from Bram Stoker. On the screens in 1922, you could expect a merely dark movie. As a matter of fact, you will find here a true master piece of horror/terror cinema that did not loose its power on the audience of the 21st century (55 years later, when Werner Herzog created his own Nosferatu with Klaus Kinski and Isabelle Adjani, he will reuse most of the details of the scenario and even some of the images).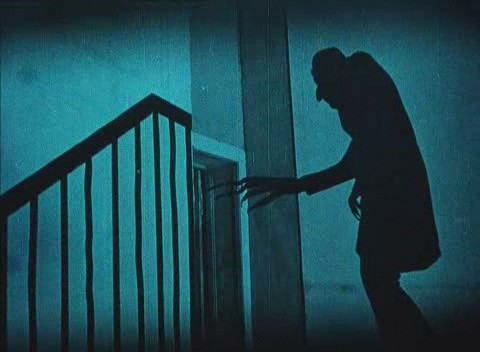 When this movie reached the pblic domain status (and it became possible to download it from the Internet Archive) we had the opportunity to (re-)discover a master piece of the highest purity whose rythm precisely defines what a horror film should be even if the special effects and blood are quite absent from the screen. Everything is based on a perfect use of lighting and the (already) expected opposition between the play of Max Schreck (Dracula, conte Orlok) who is slow, powerful, frightening and the one of the other actors more life-like.
During the movie, there is no suspense about who is the hero and who is the monster. Perfectly faithful to the original novel from Bram Stoker, the scenario grabs the audience and builds what has now become the Dracula mythology.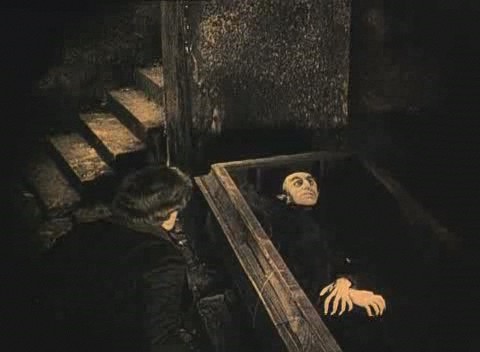 Synopsis
Jonathon Harker is sent to Transylvania to negociate a real estate sale to a mysterious Graf Orlok. He reveals himself as a dark monster who will kidnap him and steal his blood, his life force. When Orlok travels to London to take possession of his new real estate, he is also going to meet the young and pretty Nina Harker who is about to fall prey to his dark desires. Jonathon frees himself and comes back to London, but wil he be able to stop Orlok before he overpowers the frail and beautiful Nina?