I created on RedBubble a calendar (for 2009) that I think should be interesting for people in love with all kinds of artistic alterations.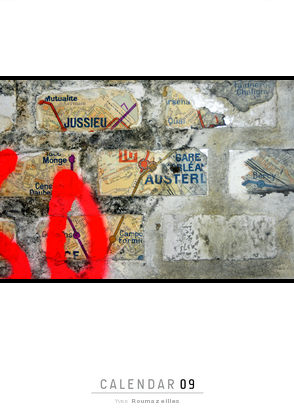 Images taken from the Paris metropolitan railway (le Métro) in a station under heavy repair. It brought images from the past (probably 20 years ago or more) through the remains of previous decors and acts of cultural vandalism that easily make me think of the slogans of the "Mai 68" near-revolution in the streets of Paris.
Even shooting the photos seemed out-this-world: Silently and slowly walking the station with another photographer (we did not even exchange a word), while the people around us were waiting for their train trying not to notice the flash lights. It could not have been a more troubling experience, going from an unstuck paper to a poor paint job or a hasty writing between dirty white tiles.