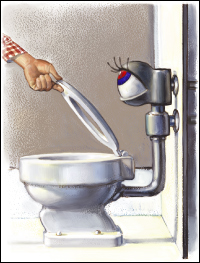 There is no end to jokes about what Microsoft did wrong (they're the number one target for many jokes and many grievances, just from their being #1 software company).
Today, I want to point you to an excellent little paper by Steve Mirsky published in his excellent column in Scientific American magazine. In the October 2006 issue, he wrote a tale of automated toilets that ends with one of his wittiest conclusions (about how to flush an automated toilet and how to stop… Windows).
Available both from the paper magazine and the web site.